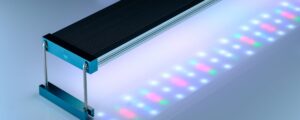 Twinstar's line of full-spectrum LED aquarium lighting provides unparalleled performance with innovative design, creating an ultra-sleek appearance that has earned the trust of the aquarium community. Experience the true and vivid colors of a planted aquarium. The Twinstar LED offers an optimum range of wavelengths perfect for what aquatic plants need to thrive and flourish.
The newest Twinstar release, C Series, features 6 different sizes to cater to a wide variety of aquarium sizes. Adjustable up to 6″ width wise, this LED light is versatile and one light may be used on various tank sizes. Twinstar C Series LED aquarium lights now offer a built-in dimmer that may be controlled via side buttons. There are 15 different lighting levels to accommodate a wide range of lighting needs in the planted tank increasing versatility and practicality.
Check below for light specifications and tank recommendations. Please ensure that you double check measurements to ensure the light will fit your aquarium.
Model
Dimensions (in)
Lumen
Watts
Glass Thickness (mm)
200C
7.78 x 3 x 3
Fits up to: 15.75″ width
1028
16
up to 12mm
300C
11.81 x 3 x 3
Fits up to: 15.75″ width
1028
16
up to 12mm
450C
17.72 x 3 x 3
Fits up to: 21.66″ width
1542
24
up to 12mm
600C
23.62 x 3 x 3
Fits up to: 29.53″ width
2056
32
up to 12mm
900C
35.43 x 3 x 3
Fits up to: 41.41″ width
2891
45
up to 12mm
1200C
47.24 x 3 x 3
Fits up to: 53.18″ width
3984
62
up to 12mm
Specifications:
Built-in Dimmer: 15 levels of brightness
Color Temperature: 7050K
LED Source: RGB-W
LED Life Span: 30,000 Hours
Operation Temperature: 0° – 35°C (32° – 95°F)
Adjustability: Up to 6″