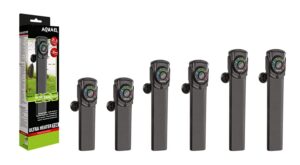 ULTRA HEATER
PRECISION AND DURABILITY
ULTRA HEATER the first intelligent aquarium heaters on the market with the SHS system in a shatterproof housing. Equipped with a precise (±0.25°C), electronic thermostat, built-in thermometer and overheating alarm. They are perfect for working in an aquarium with water turtles and large fish. They do not burn and can be safely placed even in tanks with extremely sensitive inhabitants.







PRODUCT DESCRIPTION
Water temperature between 22 and 28 degrees Celsius is needed for proper growth of plants and fish. The best solution that will help you maintain such conditions is a heater with a thermostat. In the Aquael online store you will find a wide selection of heaters, so you can successfully match a specific model to the capacity of your aquarium. You can also buy filters, aerators or decorations that will make the interior of your tank more attractive. You can shop in our store without leaving your home, at any time, regardless of the day of the week. High-quality products guarantee trouble-free operation for a long time, so do not wait, order an intelligent aquarium heater today and provide the best living conditions for your underwater pets.
HEATING AND MAINTAINING WATER TEMPERATURE – TRY INTELLIGENT AQUARIUM HEATERS
ULTRA HEATER are the first intelligent aquarium heaters available on the market. They have a shatterproof housing that has a very aesthetic appearance and does not take up much space in the aquarium. The built-in thermometer and overheating alarm make it easier to use the device. The heaters are suitable for aquariums with turtles as well as with large fish. Even if your pets are sensitive to temperatures, by choosing this heater, you can be sure that they will not burn themselves, so you can safely place it in any tank.
The presented model has the Smart Heating system, i.e. a microprocessor control system that selects the smallest heating power needed to maintain the desired temperature. The microprocessor adjusts the power itself, which in practice means that you don't have to worry about it at all. In addition, this system ensures a constant mode of operation of the device and guarantees a lower amplitude of temperature fluctuations. ULTRA HEATER heaters are convenient to use and fulfill their functions for many years. To program the heater, just use the One Touch system, i.e. a single button and a ring of LEDs, indicating the current and programmed temperature. You can set the appropriate parameters with one button.
This fully electronic smart aquarium heater has a built-in electronic thermometer and the measurement varies by 0.25 degrees Celsius. The temperature adjustment range is between 20 and 33 degrees Celsius, which ensures thermal comfort, even for the most demanding species. In addition, this range allows the treatment of many diseases, such as, for example, fish pox.
ULTRA HEATER thermostatic heaters have a built-in warning system against water overheating, which is extremely convenient, especially during hot weather. If you are the owner of a water tank inhabited by large and strong fish, you can successfully install the offered heater there, because it has an unbreakable housing made of durable plastic. It is a completely safe model, it does not burn the inhabitants, even those sensitive, such as silverfish or stingrays.
The ULTRA HEATER line includes as many as 6 models, differing in power in the range of 25 to 200 W, available in three lengths, so that they can be precisely matched to the size of your aquarium. Each model meets strict European safety standards, thanks to which the heaters are 100% safe for both the aquarium inhabitants and the maintenance staff. The smallest heater is designed for aquariums with a capacity of up to 25 liters, the largest will be suitable for tanks whose capacity does not exceed 200 liters. Each model has temperature control and overheating protection.
Intelligent aquarium heaters are fully electronic, so they are resistant to any mechanical damage. They have a built-in thermometer function and are shatterproof. The high accuracy of temperature measurement makes breeding even the most demanding species not so difficult. If you have already taken care of the right water temperature, then you can try to arrange an interesting interior of the aquarium. Choose the substrate, background and decorations. These can be natural ornaments, such as rocks, plants and stones, they will be deceptively similar to the natural habitat of the cultivated species. You can also choose artificial decorations, available in a wide range of colors and shapes. When equipping the aquarium, do not forget about the purchase of a filter, lighting or aerator. You will find all these aquarium accessories in one place, in our online store aquael.pl. We invite!